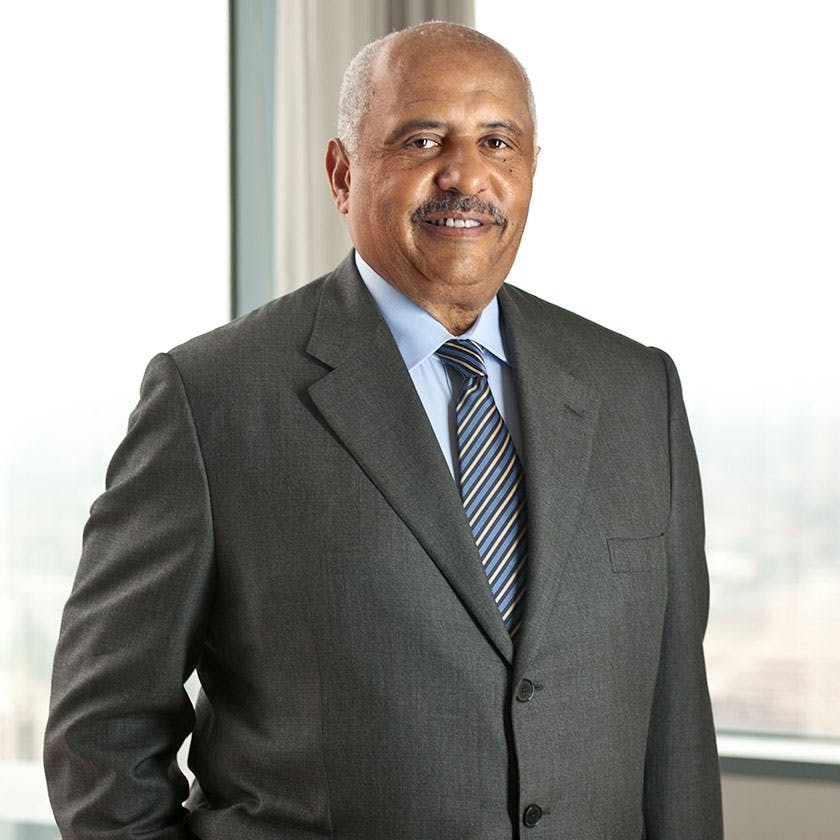 George R. Burrell
---
---
George is an Of Counsel member of Kleinbard's Business and Finance Department and a member of the Firm's Government Relations group. George has acted as a leader in the business, civic, and political affairs of Philadelphia for more than 30 years. He has served as a ranking official in the administrations of two mayors; a member of Philadelphia City Council; president of a minority-owned investment management business; general counsel to one of America's premier African-American-owned businesses; and a partner in two prominent Philadelphia law firms.
George brings the knowledge and experience he has developed as a lawyer, businessman, and public official to his practice. He regularly advises clients on building effective relationships with state, local, and federal officials; advocating on public policy and legislative initiatives; and competing for public and private sector procurement opportunities. He also serves as a strategic adviser to for-profit and nonprofit executives and board members on issues with public implications related to long-range planning and crisis management, and the development of coordinated corporate messaging for public affairs and government relations departments. George's work with two African-American-owned businesses with national reputations has positioned him to understand the unique challenges faced by minority- and women-owned companies.
Prior to joining Kleinbard, George served as a senior official in the administrations of Mayors Green and Street and as an at-large member of Philadelphia City Council. He also served as president of Sturdivant & Co., a minority-owned equity investment firm; CEO of Innovation Philadelphia, a regional economic development program; and general counsel for PRWT Services, Inc., one of Black Enterprise's top 100 African-American-owned businesses in America. George is very active in the Philadelphia community, serving on various boards and frequently mentoring newly elected officials and young professionals interested in public service. He was appointed by Governor Tom Wolf to serve on the Governor's Council on Diversity, Inclusion and Small Business Opportunity and is a regular participant on Inside Story, a popular local public affairs television program airing on Sunday mornings.
---
Representative Matters
Represents several minority- and women-owned businesses in government relations, procurement, contract negotiation, and general business matters.
Represents a health services provider that competes for public contracts in multiple states.
Has worked in his general counsel role with company executives, board leadership, and outside counsel to close deals to acquire, provide financing for the expansion of, and sell the company's subsidiary pharmaceutical manufacturing facility. He served as Secretary to the company's Board of Directors and implemented a strategy that redefined the company's role as a corporate citizen and positively changed its public profile and competitive positioning.
---
Recognition & Accomplishments
Honorable William F. Hall Award, Barrister's Association of Philadelphia
Judge Learned Hand Award, The America Jewish Committee
---
Community Activities
Governor's Council on Diversity, Inclusion and Small Business Opportunity
Board of Directors, Philadelphia Convention and Visitors Bureau
Board of Directors, Community College Foundation
Former Member, Board of Trustees, University of Pennsylvania
Founder and Former President Emeritus, Black Alumni Society at the University of Pennsylvania
Former Chairman of the Board, The Urban League of Philadelphia
Former Vice President, The National Bar Association
Former Board Member, The Kimmel Center for the Regional Performing Arts
Former Board Member, The Economy League of Philadelphia
Former Board Member, The Center City District
Founder, Operation Understanding