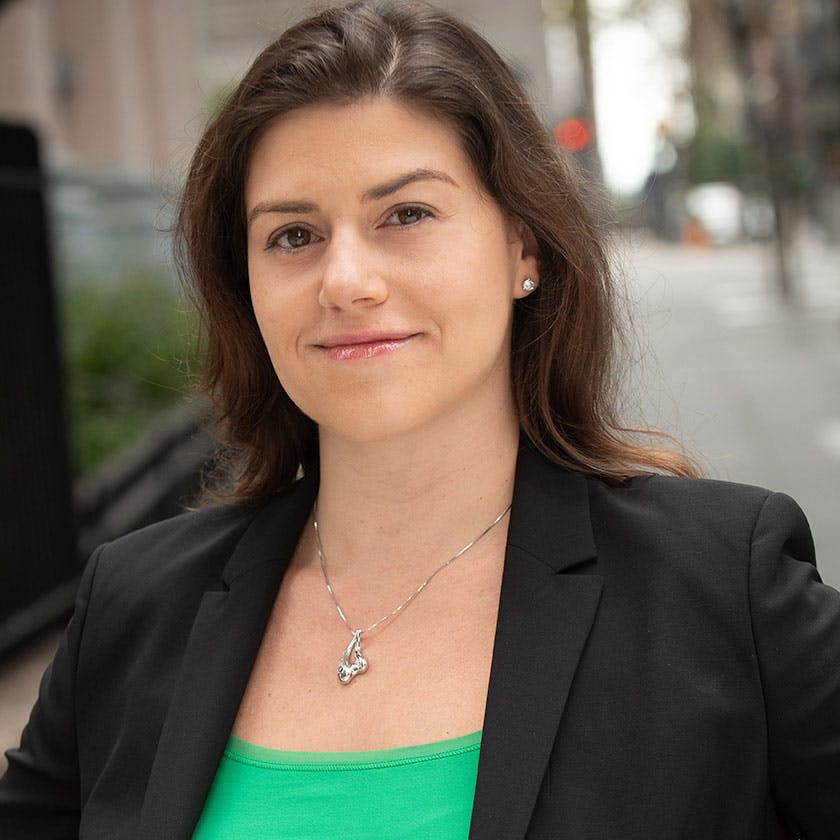 Jennifer L. Zegel
---
---
Jennifer L. Zegel is a partner in Kleinbard's Business and Finance Department and is the Practice Leader of the Firm's Trusts and Estates Group. She focuses her practice on the representation of clients in the areas of trusts and estates, business law, real estate, and employment law. She handles a wide range of trusts and estates matters including the drafting of wills, trusts, special needs trusts, powers of attorney, and health care powers of attorney documents at all levels of complexity. In addition, Jennifer assists clients in estate, trust and guardianship administration, and business succession planning. A significant portion of her trusts and estates practice is devoted to asset distribution while minimizing potential tax liability on asset transfers.
Jennifer has a special focus in estate planning and the estate administration of digital assets, which is becoming a fast growing and increasingly complex area. She is at the forefront of this emerging section of property transfers, which also overlaps and intersects with technology, privacy, and accessibility considerations. Jennifer regularly counsels clients on how to incorporate digital asset planning into an estate plan or business succession plan.
Her experience also includes entity formation, drafting and negotiating commercial contracts, shareholder, partnership and operating agreements, and analyzing business structures for legal, liability, and tax issues while providing cost-saving business solutions to clients. In addition, she handles real estate matters for both residential and commercial clients and has specific experience remedying tangle title disputes.
Jennifer is a sought-after speaker, thought leader, and media source on the topics of digital assets, cryptocurrency, and blockchain technology. She has been featured in a number of publications, including Forbes and Bloomberg Tax. She is also the co-author of "Digital Asset Entanglement: Unraveling the Intersection of Estate Laws & Technology," a book published by LexisNexis that explores the ways technology has disrupted the traditionally paper-based estate industry and provides a practical client user personas based framework for global advisors and clients alike (available Spring 2022). In addition, by working with two other Philadelphia attorneys, Jennifer co-created the Digital Planning Podcast, which is dedicated to exploring all things digital in connection with estate planning, business planning, and estate administration.
---
Representative Matters
Serves as outside counsel to several corporate fiduciaries in various and complex trusts and estates matters.
Represented the estate of a young mother who tragically died in a trucking accident, and successfully negotiated a favorable settlement with the insurance carrier for the company on behalf of the Estate with all of the proceeds going to the decedent's minor daughter though a long-term structured settlement. Also, successfully petitioned for the Appointment of a Guardian of the Estate for the minor, despite challenges to the proposed appointment from various family members, which was ultimately resolved and the Petition granted.
Represented the founder and principal of company in a sale of the closely held corporation for $40M. Also, personally represented the principal of the company in connection with estate planning, and through complex planning was able to shield over $15M of assets from estate and inheritance tax inclusion at the principal's death.
Represented a co-Trustee of a Dynasty Trust with a value of $60M when issues developed with the other co-Trustee, and successfully negotiated a global settlement between the parties that avoided protracted litigation of the matter, implemented mechanisms to avoid future administration issues, and ensured that the competing interests of the lifetime beneficiary and the remainder beneficiaries of the trust were balanced.
---
Professional Associations
Society of Trusts and Estates Practitioners (STEP)
TEP Designation
Committee Member, STEP's Digital Assets Global SIG International Steering Committee
Philadelphia Bar Association
Chair, Legislative Committee, Probate & Trust Section
Technology Committee, Probate & Trust Section
Diversity in Blockchain (DiB)
Secretary of the Board, National
Director, Philadelphia Chapter
Member, Philadelphia Estate Planning Council
Member, The POWER of Professional Women
---
Recognition & Accomplishments
Bar Star, Probate and Trust Law Section of the Philadelphia Bar Association (2020)
Rising Star, Pennsylvania Super Lawyers (2014-2021)
Lawyers on the Fast Track, The Legal Intelligencer (2015)
Participant, Good Shepard Mediation Training Course (2018)
Eliza Shirley Pro Bono Award (2018)
Member, First Judicial District of Pennsylvania Pro Bono Roll of Honor (2011, 2012, 2015, 2017)
---
Community Activities
Volunteer, Philadelphia VIP
Volunteer, Homeless Advocacy Project
Volunteer, Philly Reads
Member, Under 40 Club
Advisory Committee, The Philadelphia Academy Charter School